Features
A compact design. With all the right options.
Menu bar app
CashNotify is a menu bar app for Mac and Windows. The icon's color indicates when something new happened in your Stripe account(s).

| Icon | Signification |
| --- | --- |
| | Default icon, nothing new happened since you last opened the app |
| | New captured payment(s) |
| | New failed payment(s) |
| | New payout(s) |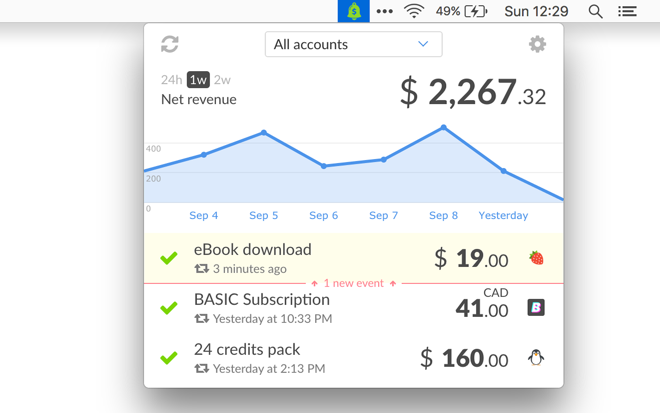 Always up-to-date
CashNotify checks for new events in your Stripe/PayPal account(s):
Every minute

When you open the app

When you click the "refresh" button


Configurable events
CashNotify lists 4 types of events, identified by an icon.
| Icon | Event |
| --- | --- |
| | Captured payment |
| | Failed payment |
| | Refund (deactivated by default) |
| | Payout |
You can customize which type of events you're interested in. Only these events will be displayed and trigger notifications.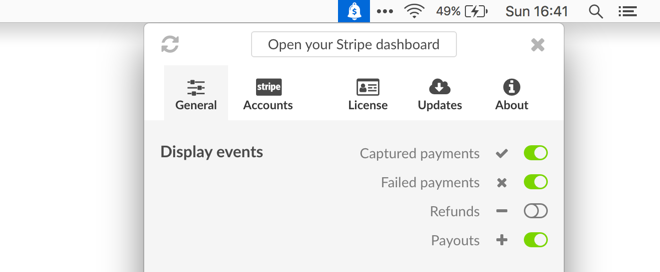 Events details
Clicking on an event expands it to show its details. The "View on Stripe" button opens stripe.com on the page for this particular event. There's an equivalent button for PayPal events.
Captured payments
The details include the customer's info and the fees applied to this transaction.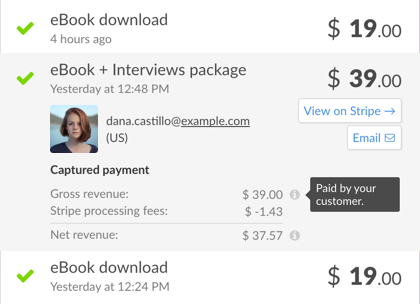 The fee details are especially useful when a currency conversion occurs.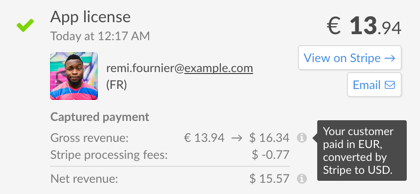 If they apply to your transactions, application fees and taxes are also listed.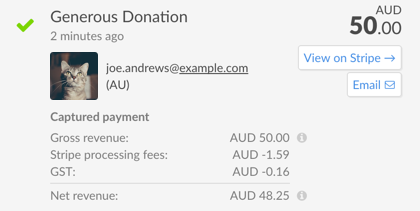 Failed payments
There are several reasons why you may want to be notified of failed payments.
A charge can fail when Stripe flags it as having a high risk of fraud. Stripe blocks these charges to protect you from disputes and fraudulent payments.

Failure can also happen when the customer's bank blocks the charge. Here are examples for a few bank decline codes:



Refunds
The details show the impact of a refund on fees. It's especially useful to understand the consequences of a partial refund.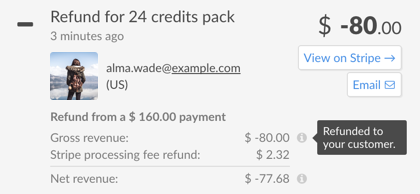 Payouts
Payouts indicate when the funds have been sent to your bank account. The
date is Stripe's estimate of when the money will arrive.

Notifications
CashNotify displays a native notification when an event happens. The logos on the right are the Stripe accounts logos defined by you on stripe.com.

You can turn notifications off entirely. The menu bar icon's color will still change to alert you of new events.

Multiple accounts
To add an account, copy/paste the corresponding API key from your Stripe or PayPal dashboard. The account's name and logo are imported automatically.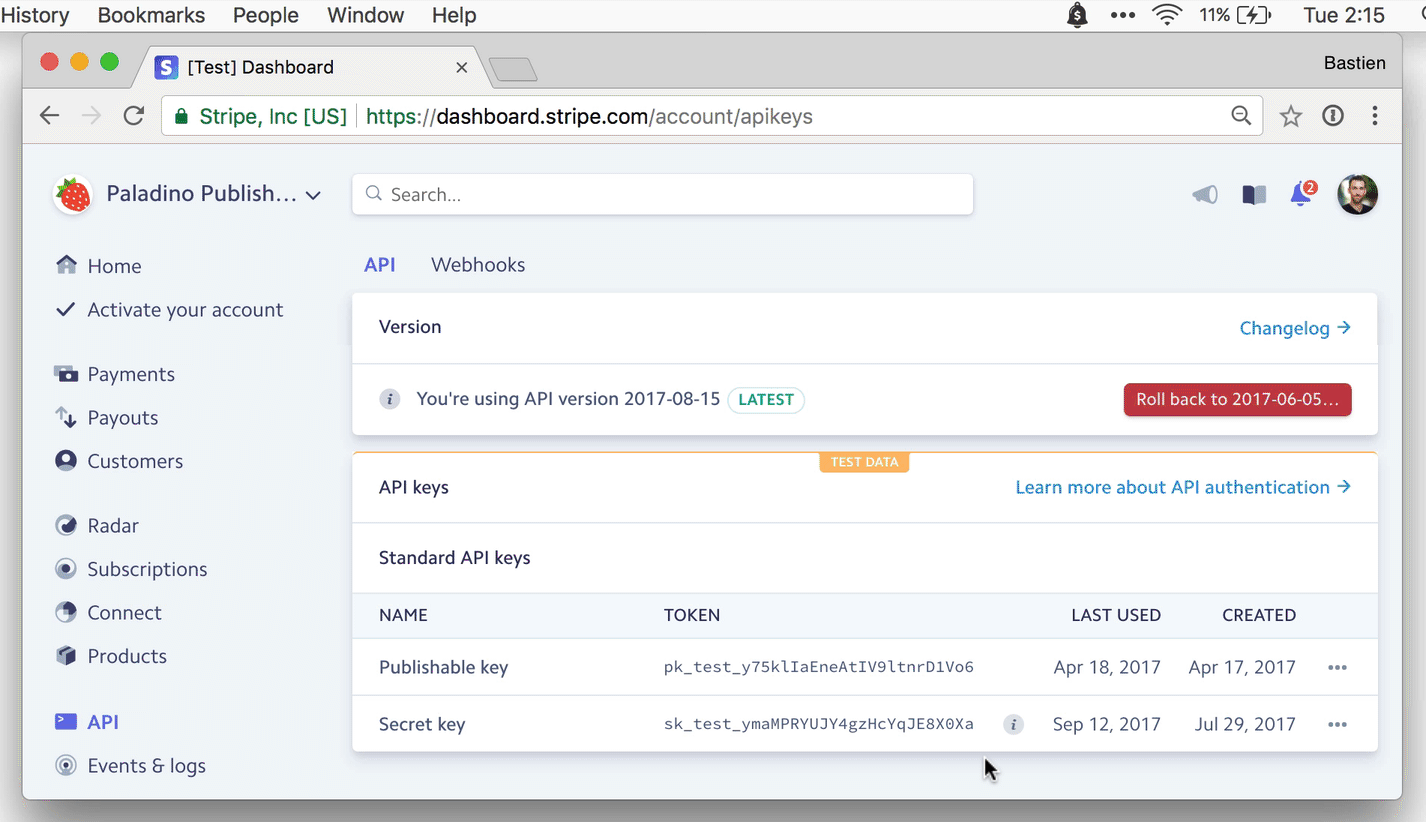 When you have multiple accounts, the account's logo is displayed on each event to identify them quickly. Use the select to focus on one particular account.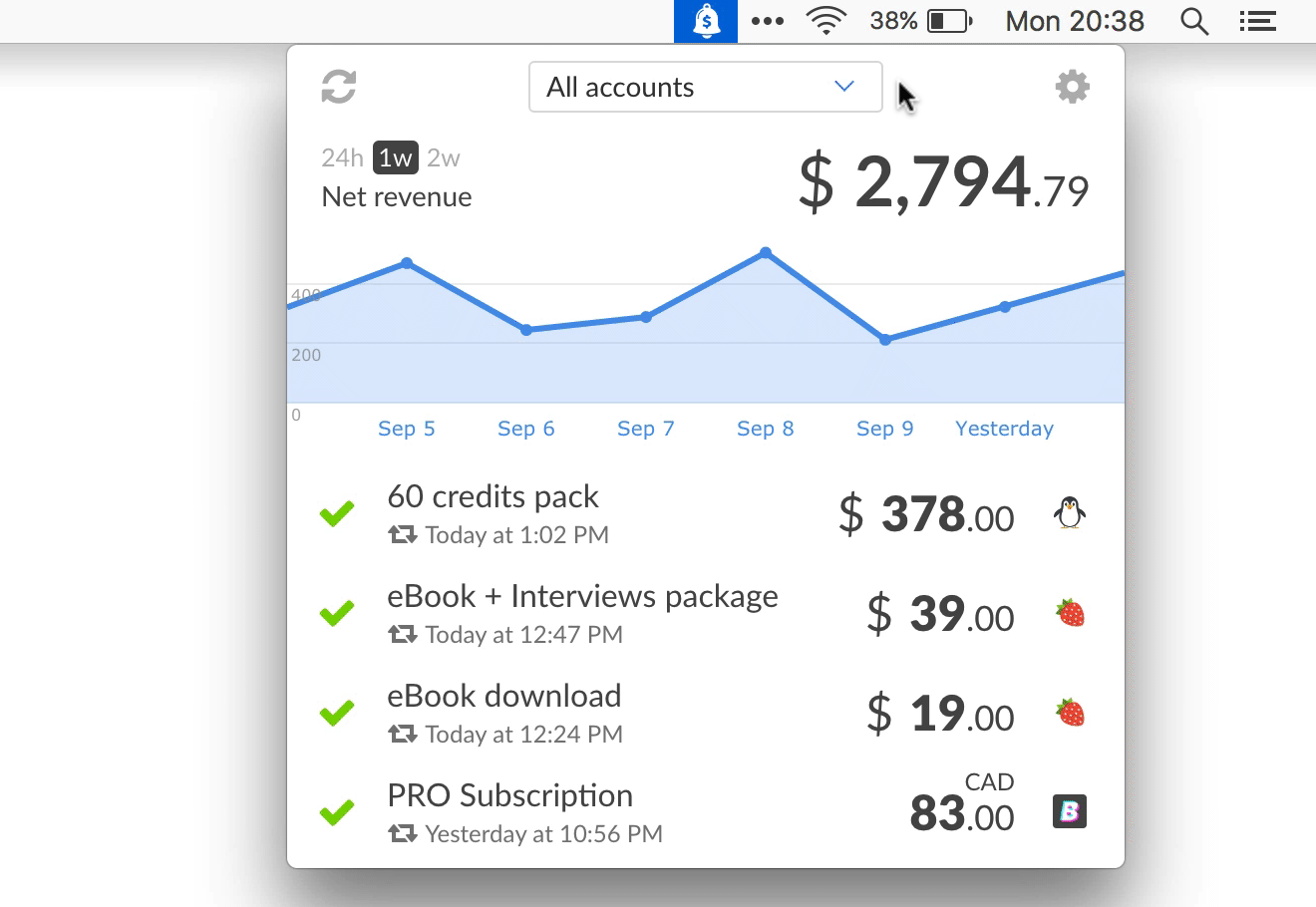 Dashboard
The dashboard shows an aggregate of your revenues on the selected period.
Our graph of "net revenue" is an estimate from payments after fees, refunds and disputes have been deducted. It is consistent with Stripe's dashboard. Read more in our post about net revenue.

If you have multiple accounts in different currencies, you can choose which currency to use for the graphs.

Share your graphs by clicking the "Share" button and dragging the image to another application like Twitter, Slack, Gmail…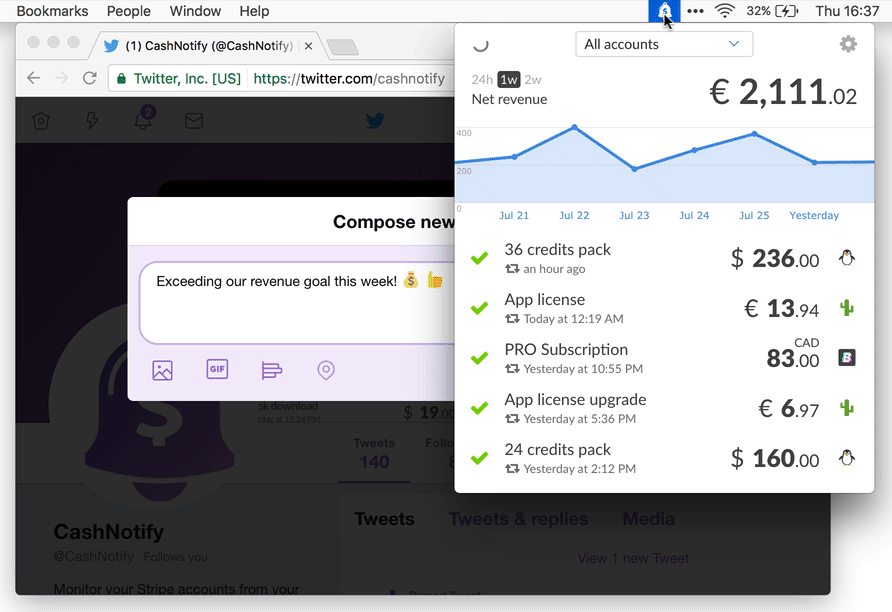 Secure
Your security and privacy are of utmost importance.
None of your financial data ever reaches us. Everything happens between your computer and Stripe or PayPal servers, with no intermediate server involved.
Read why CashNotify is secure.
Photo credits: Christopher Campbell, Ayo Ogunseinde, Erica Leong, Joe Gardner, Andre Benz, Lucas Sankey, Jason Blackeye