What is a menu bar app?
Help topics
Menu bar apps on Mac
Location
CashNotify is a menu bar app. Its icon is located on the right of your Mac's menu bar. This area is like the system tray in Windows/Linux.

Reordering apps
Apps in your menu bar can be moved around with Command+Drag. Hold down the Command ⌘ key while clicking on an icon, and you can drag it anywhere else on the menu bar.
This also works if you want to move macOS system icons like the wifi, battery or date/time indicators.

CashNotify
App icon
CashNotify's icon color indicates when something new happened in your Stripe account(s).
It alerts you in a way that's more subtle than with a notification. It also remains visible after the notification has disappeared.

App window
Clicking the menu bar icon opens the CashNotify app below it. It's a compact window which you can resize, but not move around.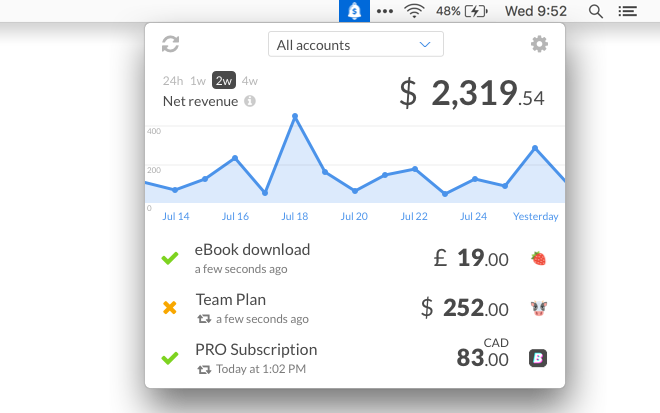 You can also open the app by clicking a notification triggered by CashNotify.

Menu bar settings
Mac users can activate 2 settings impacting the appearance of their menu bar. They are located in Apple > System Preferences > General.

Dark menu bar
This setting inverts the colors of the menu bar, with white icons on a dark bar.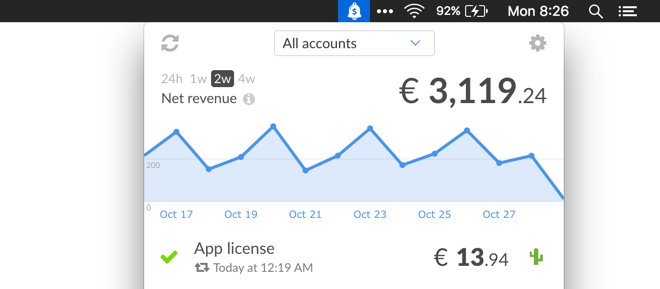 This setting hides the menu bar and only shows it when the user moves their pointer to the top of the screen.
This means that users won't notice a change in the icon's color until they use the menu bar.
If you hide your menu bar, you can still rely on alerts displayed within your Mac's Notification Center. CashNotify's notifications are shown even when the menu bar is hidden.

What if you have many menu bar apps?
If you have more than a few menu bar apps installed on your Mac, your menu bar can become cluttered.
Bartender for Mac is an app that lets you organize your menu bar apps.
You can hide them completely, or move them out of your view while still keeping them accessible.
Conclusion
A menu bar app is ideal for apps dedicated to monitoring like CashNotify.
Advantages
App icon is displayed in a prominent location

App icon's color can attract the user's attention

Great for apps with a compact window

App opens on top of other windows

Does not take space in the macOS Dock

Inconvenients
Takes space in the menu bar

Does not have a top-left app menu

Is absent from the ALT + TAB apps list

More about the menu bar on Mac: